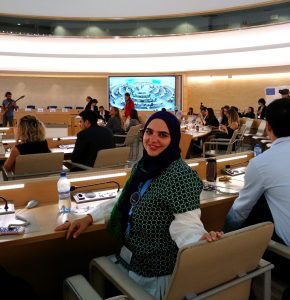 Amani Othman, a public health Ph.D. student at Florida International University's Robert Stempel College of Public Health and Social Work, participated in a three-month summer internship at The United Nations Office of the High Commissioner for Human Rights (OHCHR), Universal Periodic Review (UPR) Branch, as part of a fellowship from Duke University. The fellowship is composed of an internship and a five-day intensive course.
Selected as a Humanitarian Action Fellow, Othman learned firsthand how humanitarian assistance is formulated and implemented.
The program concentrates on critical humanitarian issues, including the rights of vulnerable children, international migration and refugees and resettlement. Selected individuals obtain both experiential and academic viewpoints on how non-governmental organizations, public-private partnerships and intergovernmental institutions influence humanitarian action policy.
Othman joined the UPR on the first day of UPR's 30th working group session. During this period, among her many duties, she assisted staff members in country reviews, collected and analysed written material and oral statements, and helped in translating statements and drafting small sections of the working group report.
"Coming from a health background with insufficient knowledge and experience in the humanitarian domain, I had three targets to achieve from this program, which I am glad to say I was able to meet," Othman said.
Seeing health and human rights as inseparable, Othman sought to serve both by expanding her knowledge on human rights and utilizing her expertise in health promotion to design and implement programs which support human rights. She was able to achieve this goal through a simulation-case assignment, where she combined her experience from previous program development courses with what she learned during the intensive-course week aimed to develop a health policy in a refugee camp.
Othman's second target was to understand the methods used by humanitarian organizations during disastrous times. Her course professor, Amy Hepburn, along with guest speakers, helped Othman understand these mechanisms by explaining how collaborations between different international and local agencies are framed and executed in humanitarian catastrophes.
Her third goal was to learn from top experts and diverse colleagues in Geneva, while adding value to the program and building relationships with participants that could lead to collaboration in the future.
Othman came out of the fellowship inspired and looking forward to working in the humanitarian field. Her future aspirations include working for a humanitarian non-governmental organization on health issues, establishing a humanitarian action program back home and teaching her daughter the love of humanitarian work and human rights.