Stempel College recently celebrated the research and dedication of its students with the college's first Research Day. Students showcased twenty-four ongoing research projects, from both the Ph.D and master's levels, across all disciplines at the college. It was an opportunity for students, faculty and staff to learn about the work being done throughout the college and opportunity for students to gain more experience in explaining their research.
"As an institution of learning and inquiry that is engaged in addressing the challenges faced in our communities, we have an obligation to nurture our students' development as practitioners and future scholars. Engaging them in research is one such way in which we do this. Whether it's happening in the communities or in our labs, research is at the core of what our students and faculty do each day here at Stempel," said Magnolia E. Hernández, director of Office of Student and Alumni Affairs at Stempel College.  We know, however, that research can be a collaborative or 'silo-ing' endeavor or both! Research Day provides the perfect platform to break down the silos and help our students showcase their work and give others within the college and across campus a glimpse of what Stempel is all about."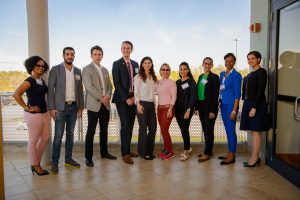 The day began with a 3MT, or Three-Minute Competition, where twelve Stempel College Ph.D students were responsible for explaining their research within the time limit and judges chose the best three presentations. The winner, Wissam Al Khoury, a Ph.D student in Health Promotion and Disease Prevention, presented Generation Net: Exploring Internet Usage and Its Association with Academic Performance, Mental Health, and Sleep Habits Amongst College Students. His research pertained to problematic internet use among FIU and, through the research, he discovered several red flags. His results were shared with FIU's Student Health Center. Al Khoury received a certificate and $300 for winning and will move on to the university-wide research competition during the university's Graduate Student Appreciation Week (GSAW).
"My Ph.D. program has helped me grow as a researcher and such challenges make me grow as a public speaker. I tend to take all academic challenges seriously, so I'm both excited and fully charged for this next contest," said Al Khoury. "I participated in an extensive workshop to prepare and help me deliver a talk that would be at the level of the Ohio University 3MT."
After the 3MT competition, attendees were given the opportunity to attend a poster session and learn about more projects that students are working on.
Michelle-Ann Rhoden, Ph.D student in Social Work, presented her poster entitled, Community Reintegration and Health Outcomes of Youth Offenders: Research, Policy & Service Programs. The research is part of her dissertation and draws upon work she has done in the community as a licensed social worker.
"As a social worker, I saw children as young as 3-5 years old who needed help, they needed interventions that would keep them from eventually ending up in the juvenile justice system," said Rhoden. "I knew that if I could learn to track them and help them – I could make a difference. These children are victims of adversity that are impacting their lives and health outcomes and I want to help."
From Health Promotion and Disease Prevention, Ph.D. student Rumi Agarwal is examining how children with developmental disabilities affect the parents with her poster, Validated tools measuring stress and anxiety in parents of children with intellectual and developmental disabilities: A systematic review.
"Parents of children with developmental issues have complex anxiety and stress levels that need to be understood and addressed," said Agarwal. "Without intervening and helping parents, there is a perpetual cycle of adverse outcomes that ultimately affect the entire family unit."
Yanet Manresa, Master of Public Health student in Epidemiology, began her research during her practicum at a local hospital. With her poster, Will providing patients with hand sanitizing wipes have a greater effect on hand hygiene practices than educating staff?, she is looking for real-world solutions to an everyday problem.
"I wanted to find a better way of doing things and I like the practical nature of this research," explained Manresa.
Looking at contaminants in water near a nuclear reactor, Juan Morales, Ph.D. student in Environmental Toxicology wants to prevent a dangerous outbreak with his poster, Heavy metal and radionuclide surface water modeling combining hydrodynamic and agent-based analysis using DHI-MIKE SHE, MIKE 11, and ECOLab.
"Public health is all about prevention. What better way to prevent an outbreak than to simulate the process in a cost-effective way and understand the outcome before it happens?" said Morales.
Better understanding nutrition information is affecting health was the focus the poster by Katherine Alonso, MS student in Dietetics and Nutrition, Use of Restaurant Nutrition Information and Hyperlipidemia Among U.S. Adults Based on NHANES 2013-2014 Data.
"It is great to participate in research that looks at how nutrition directly impacts the American population; it allows us, as future researchers, to start building the foundation to think of innovative and creative ways to help one another lead healthy and fulfilled lives," said Alonso.
Hosted by the Office of Student and Alumni Affairs, Stempel Research Day looks to become an annual event that will help highlight student research and encourage collaboration across departments.
"The college was excited to see the overwhelming response and engagement from faculty and students to our first Research Day—standing room only at the presentations! This tells us that there was a critical need and interest that we are addressing here, and we look forward to working with our students on next year's event already," said Hernández.