By achieving HIV viral suppression, people living with HIV, today, have the possibility of living as long as those without the virus. Part of that is maintaining a healthy lifestyle that includes taking prescribed antiretroviral medications, which not only suppresses the virus but also lowers the risk of transmission.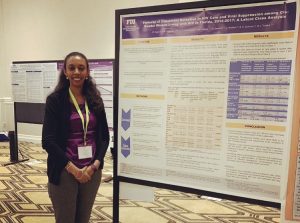 Rahel Dawit, a doctoral candidate in the Department of Epidemiology at the Robert Stempel College of Public Health & Social Work, was recently awarded a two-year grant for $68,122 from the National Institute on Minority Health and Health Disparities at the National Institutes of Health to examine social and physical neighborhood factors such as living in economically deprived neighborhoods or distance to care facilities on HIV care outcomes and their impact on sustained HIV viral suppression.
"There has been little research to date about the role of neighborhood factors in achieving sustained viral suppression," Dawit said. "The objective of this study is to assess the contribution of neighborhood, geographic and distance factors on racial/ethnic disparities in achieving sustained HIV viral suppression."
In Miami-Dade, one of the counties with the highest rate of HIV in the country, more than 28,000 people currently live with HIV. The Miami-Dade County Ryan White HIV/AIDS Program, a payer of last resort that provides comprehensive medical and social support services for uninsured and underinsured people living with HIV, serves more than 9,600 people. Dawit's research will utilize data from this program to better understand the obstacles that racial/ethnic minorities face in achieving and maintaining sustained viral suppression.
"I am interested in conducting research that improves the health of marginalized populations living with HIV/AIDS by examining and addressing social determinants and geographic disparities of health. I believe findings from this study will help develop tailored interventions to improve the health outcomes of vulnerable populations," Dawit said. "The trainings that I will receive through this grant and the mentorship from my sponsoring faculty, including Drs. Trepka, Duncan, and Sheehan will help me develop skills to become an independent researcher."