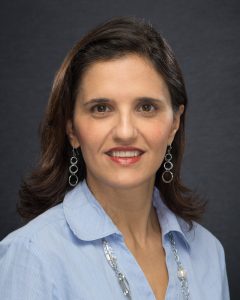 Advice from dietetics and nutrition professor Cristina Palacios on how to help fight off COVID-19 by consuming specific foods and supplements has taken the internet by storm. An article on work she conducted in collaboration with a team of international experts appeared on the FIU News website in late November and continues to earn a record-breaking number of page views—more than 125,000 to date and counting. It is the most-viewed article of the more than 9,200 published on the site since its inception in 2009.
The much-read piece details Palacios' and her colleagues' findings about vitamins and minerals that could stave off infection. The interest may stem from people's wanting to do more for their health than wear masks and remain socially distant, Palacios says.
"They may be looking at other things that they could do instead of just that physical protection," she says. Turning to nutrition as a way to boost immunity appeals to many people because conventional advice alone has not stopped the spread of the disease.
"I guess because the pandemic has gotten out of hand," Palacios says, many are wondering, "Let me see what else I can do."
Palacios believes the specificity of the recommendations in the article—taking two daily 1000 mg supplements of vitamin C, for example, or consuming dairy products and eggs as a means to increase vitamin A intake—resonated with folks looking for quick and meaningful steps to enhance immunity. She offered a webinar on the topic in December.
The information initially was gathered to help frontline workers safeguard their health through personal diet and supplementation and originally published in the professional journal of the Latin American Society of Nutrition. The story on the FIU News site condenses the information for a lay audience and makes it available to anyone in the world searching for such timely and topical advice.
Read the original article here.