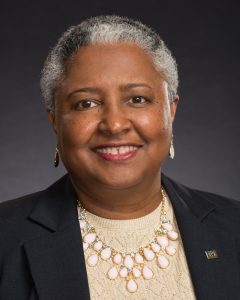 Florence Greer MPH '95 has dedicated her life to public health.
She worked as a consumer safety officer with the U. S. Food and Drug Administration in Detroit. She served as the coordinator of services for pregnant teens and as a coordinator for the Office of HIV/AIDS at the Florida Department of Health office in Miami-Dade.
Currently an assistant teaching professor and the public health practicum coordinator at the Robert Stempel College of Public Health & Social Work, Greer educates students while also dedicating her time outside of the classroom as the president of the board of the Miami-Dade Area Health Education Center. The nonprofit organization looks to improve access to high-quality health care and education for the most vulnerable through academic-community partnerships. Currently it is focused on raising awareness and providing services around Alzheimer's, diabetes and colon cancer while also offering educational sessions for medical and nursing students.
For her role with AHEC, Greer has been selected as a recipient of the South Florida Hispanic Chamber of Commerce's Outstanding Community Leader award, annually given to African Americans who have made significant contributions to the community and who have excelled in their respective careers. She will be honored virtually on Feb. 25 through a Zoom event celebrating Black History Month. It will be hosted in collaboration with Univision and is sponsored by the Stempel College.
For Greer, it's an acknowledgement that she's made a difference in her community. "I feel very blessed to be able to work in this profession," she says. "I've been involved in public health where I preach prevention, prevention and prevention." A commitment to minority and underserved populations, in particular, drive her work. "I really strive for fairness, civil rights, equality," she says.
Ever humble, Greer says she will accept the award during Black History Month as a way to draw attention to the work of other people of color who may have gone unsung, among them community leaders, public health professionals and scholars who give of themselves every day.
"I think it's a celebration and recognition of the achievements of Black Americans for America. Those achievements and contributions are often overlooked. This is an opportunity to stop and recognize and celebrate those amazing contributions to this country."