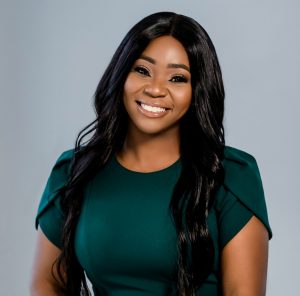 As the combined weight of a global pandemic and nationwide racial upheaval collided with her own personal suffering, eternal optimist Nandy Smith rose above.
The now-32-year-old mother of a toddler could have seen her ebullient spirit seriously tempered in the public aftermath of George Floyd's death and by the concurrent dissolution of her seven-year marriage. Instead, she dusted herself off and chose to do two things to positively impact others.
The first: enroll in the Stempel College's master of public health program with an aim to improve well-being in the Black community.
That goal comes years after Smith parlayed an undergraduate degree in communications into work in the hospitality industry and, more recently, after she trained for a commercial driver's license to operate a semi-trailer-tractor, which took her and her co-driver husband on the road to 46 states.
With the arrival of daughter Legacy in October of 2019, however, Smith began a period of postpartum depression (for which she sought therapy) that only worsened with her partner's demand for a divorce. At the time, COVID-19 lockdowns loomed on the horizon, and large-scale protests against the police killings of unarmed Black Americans had yet to rock the nation.
In the midst of the ensuing storm, Smith spoke at a rally as a representative of the Miami-Dade County chapter of the NAACP, with which she had long been active. She addressed the assembled young people with a message of hope—"I wanted them to know that change is going to happen," she says—even as she remained haunted by video of George Floyd calling out for his mother in the waning moments of his life.
As a new mom, Smith could hardly bear the brutal scene, she says. "It broke me down. It was devastating to watch."
Looking to propel change in her life as well as in her community, Smith found a way forward with the MPH program's health disparities and disease prevention track. She knows of the devastation wrought by COVID-19 on the Black population, which has suffered disproportional rates of infection and death. She also understands the reticence of many without insurance to seek help when ill. For these reasons, she has thrown herself into acquiring the knowledge to improve health care access and to build awareness by educating others.
"When it comes to health, because I know it's such a sensitive topic, I just want to make sure that I am equipped to be able to speak on that," Smith says, "so this is why it's important for me to learn. I never thought I would be into public health, coming from communications, but it kind of goes hand in hand."
After "finding herself," Smith made a second fateful decision in hopes of empowering others: to write a book about her journey. The self-published volume, which comes out in May, combines memoir and self-help to share lessons learned over the course of a difficult year and a message of resilience for women everywhere.
"You're going to get through this," she writes for those who juggle motherhood, work, school and a host of other duties. "You are strong enough."
And she should know.