Born and raised in Ghana, Justina Serwaah Owusu was the first in her family to come to the United States to pursue her academic goals.
A talented and competitive student, Owusu graduated from one of Ghana's top master's nutrition programs and was determined to tackle malnutrition challenges in her country. After graduating from the program, she worked as a public health nutritionist at a hospital in Ghana where she managed malnutrition in children, provided dietary management of chronic disease and trained interns on how to treat individuals at risk of malnutrition. Realizing that her impact in the hospital setting was limited and that she needed access to more research on prevention, Justina sought out a doctoral program at Florida International University (FIU).
"I wanted to provide the best optimum care to the patients I encountered," said Owusu. "I wanted to impact the next generation of dietitians and nutritionists, so that we could work together to help people with dietary conditions and help them manage their health."
In 2015, Justina was accepted into FIU's Robert Stempel College of Public Health and Social Work's dietetics and nutrition Ph.D. program. Under the mentorship of Dr. Fatma G. Huffman, professor and founding director of the program, Owusu completed a dissertation that focused on vitamin D and its impact on reducing advanced glycation end products, a biomarker of complications related to Type 2 diabetes. She also participated in the school's dietetic internship, which included clinical and foodservice rotations at Jackson Memorial Hospital and the Franco Nursing and Rehabilitation Center.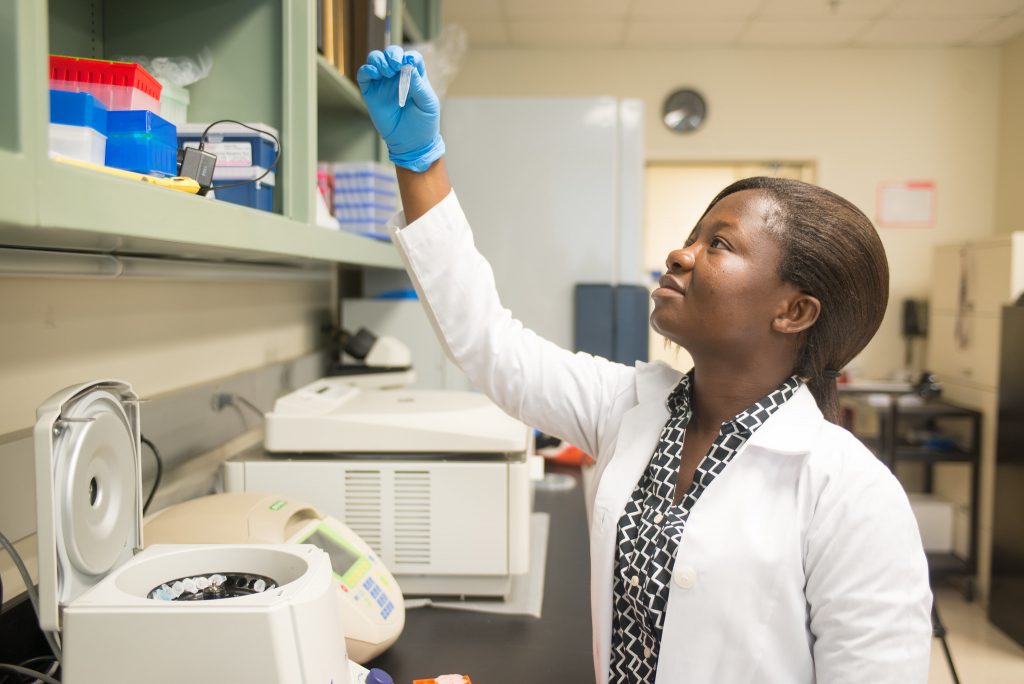 "During my internship, I wasn't sure how I was going to make it," said Owusu. "What motivated me to keep going was the reason I was there. I came to the college to gain the skills needed for me to do the work I wanted to do. I was looking at the end results, not the present challenges."
Juggling school and a full-time internship, Justina maintained a high GPA and was inducted into Sigma Xi and the Golden Key Honor Society. A prolific researcher and scholar, Justina's work on the nutrition of children has been published in two first-authored journal publications.
"I know that Justina will make the best of where she is. She will be a wonderful mentor for students in Ghana as she's a great role model and hardworking individual," said Dr. Huffman. "She truly exceeded my expectations."
Before returning to her home country of Ghana last fall, Owusu put her public health skills to work as a COVID-19 case investigator, contacting people with a positive diagnostic test and providing them with support and information about the virus.
This spring, Owusu will be honored during FIU's commencement ceremony as a Real Triumph Graduate, a recognition given to students for their high achievements at the university.
Owusu currently serves as a faculty member at the University of Ghana, which allows her to combine her interests in teaching, research and mentorship. She is thankful for the opportunities FIU offered her.
"It's the best place for you to come for an education because it's not only about the development of your skills. You come in and you have faculty that are interested in your success irrespective of your background," Owusu said. "Resources are available for you to develop into the best version of yourself so you can offer your best to the world."
Go here to learn more about Stempel College's Ph.D. in Dietetics and Nutrition, including admissions criteria for domestic and international students.