This Saturday, April 24 at 11:00am ET, people from across the country are invited to participate virtually in the annual Out of the Darkness Walk to remember those lost to suicide, and to encourage discussion around mental health. We sat down with Dr. Mark Macgowan, associate dean at the Robert Stempel College of Public Health and Social Work and a licensed clinical social worker, to learn about the importance of taking care of one another, warning signs of suicide to watch out for, and how people can support or get help.
Dr. Macgowan, this pandemic has caused heartache and uncertainty for people across the country.
What are a few ways people can take care of their mental health?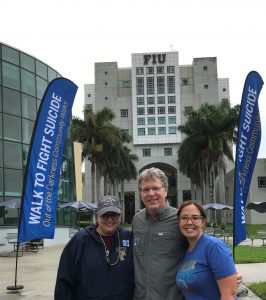 Recognizing that you have feelings of anxiety, sadness, frustration, or anger is the first step. Also, keep in mind that sometimes these emotions can be a bit hidden. We've all been operating at a certain level due to the pandemic and may not realize the impact it's having on us. These feelings of anxiety, nervousness or sadness can take a toll over time if not addressed. If you're feeling this way, go for a walk, download apps for tips like Headspace, Mindfulness Coach, COVID Coach or AIMS for Anger, or talk to a friend or loved one. People can also get counseling for extra support. At Florida International University (FIU), we have access to Counseling and Psychological Services (CAPS, for students) and Employee Assistance (for employees). Both are available 24/7 and provide free mental health services.
What are some challenges that can occur if someone doesn't address these types of emotions?
It could lead to more serious issues. A lot of us deal with day-to-day challenges, but make sure to listen to your family members and your peers. If they notice something's a bit off or that you're feeling a bit more anxious than usual, make sure to listen to that and take steps to address it. If you don't address it, this can lead you into feelings that are more difficult to deal with on your own. If things start to get overwhelming, seek help.
The Out of the Darkness Walk raises awareness and funds for suicide prevention, and also provides an opportunity for people to talk about their own mental health struggles. Why is it so important to have these conversations?
The event brings out the dark things we don't talk about—things we need to recognize and shine a spotlight on. Did you know that suicide is the 2nd leading cause of death for people ages 10-34? How can we ignore that? We can't. Feelings of depression or sadness—people shouldn't be ashamed of these emotions. We need to talk about them openly. This is why the walk is so important. It brings to light a public health issue that's impacting people of all ages.
Many people might not know their loved ones are considering suicide. What warning signs should they look out for?

Suicide is complex and it can't be traced back to one single incident. If someone has a pre-existing depressive condition, that on its own doesn't mean they are at risk of killing themselves. The risk becomes greater when a person has a number of things happening in their life that can cause increased anxiety or other mental health issues—issues that can't be managed on their own.
Someone at risk of killing themselves will express that they want to die, talk about feeling trapped, act anxious or agitated, withdraw or feel isolated, or display extreme mood swings. The more signs shown by the person, the greater the risk of suicide. When we see that, we should take steps.
What are some ways people can help someone that may be exhibiting these signs?
The National Suicide Prevention Lifeline recommends five action steps to help people at risk of suicide:
Ask them directly—Are you thinking of suicide? Asking the question directly opens up the dialogue to talk about it. If there is an immediate risk of suicide, call 911.
Keep them safe. Ensure they don't have access to objects that could be used to harm themselves.
Be there. One of the important factors of getting someone back on their feet is having someone be there for them—a friend or loved one. It could mean that someone will need to sleep over this person's house or be with them the full day.
Connect them to help. Resources are available for them to get the support that they need.
Follow up. Just because someone looks like they are fine on the outside, doesn't mean they are on the inside. Don't make assumptions. Follow up and ask them how they are doing.
What resources are available for someone who may be experiencing these suicidal thoughts?
There are many resources out there for anyone who needs help. If you can't get through to one, try another. Don't give up until you are able to get someone on the line. Here are a few national and local resources:
National Resources
National Suicide Prevention Lifeline is a hotline staffed 24/7 and confidential support services are available for people in distress. In English: 1-800-273-8255; En Español: 1-888-628-9454; Deaf and Hard of Hearing: 1-800-799-4889
Crisis Text Line provides free mental health texting service through confidential crisis intervention. Reach them by texting 741741
The Trevor Project is the leading national organization providing crisis intervention and suicide prevention services to LGBTQA+ individuals under the age of 25. The Trevor Project Youth Suicide/Crisis Line: 1-866-488-7386
Florida Resources
Switchboard 2-1-1 is a 24-hour human services helpline that provides free telephone crisis counseling, crisis intervention and information and referrals that assist families and youth cope with their most pressing issues. Call 211 or 305-358-4357
Broward 2-1-1 is a 24-hour comprehensive helpline and support service for individuals in the community seeking crisis intervention assistance and/or information and referrals to health and human services in Broward County. Call 211 or 954-537-0211
Interested in participating in the Out of the Darkness Walk this weekend? Make a donation and learn more about the virtual walk here.