Ahmed Abousaleh never imagined going back to school— it was more than 20 years since he graduated from high school and entered the workforce. He worked as a combat medic with the Army, earned his paramedic license and later secured a job as a first responder with the City of Miami Fire-Rescue Department. He enjoyed the career he built for himself but knew that more needed to be done to take it to the next level.
"I had a couple of co-workers tell me that I should get a degree in disaster management," said Abousaleh. "I always wanted to get my bachelor's and here I was, at 42, enrolling in school to make it happen. I knew it was important."
Abousaleh wasn't alone. In January 2020, he along with first responders Yendy Gonzalez, Melanie Holmes, Juan Carlos Llanes, Glen Stiles and Olivier Tassy embarked on the same journey to get their bachelor's degrees from the Academy for International Disaster Preparedness at FIU's Robert Stempel College of Public Health and Social Work.
"FIU is one of only a handful of universities in the state that offers this degree," said Joann Brown, assistant director of the academy who oversees the undergraduate program. "This is surprising since Florida ranks 4th in the nation in the number of presidentially declared disasters. The threat from natural, man-made, biological and environmental hazards remains a constant danger. This degree provides the educational foundation first responders need to combat the challenges that face our community."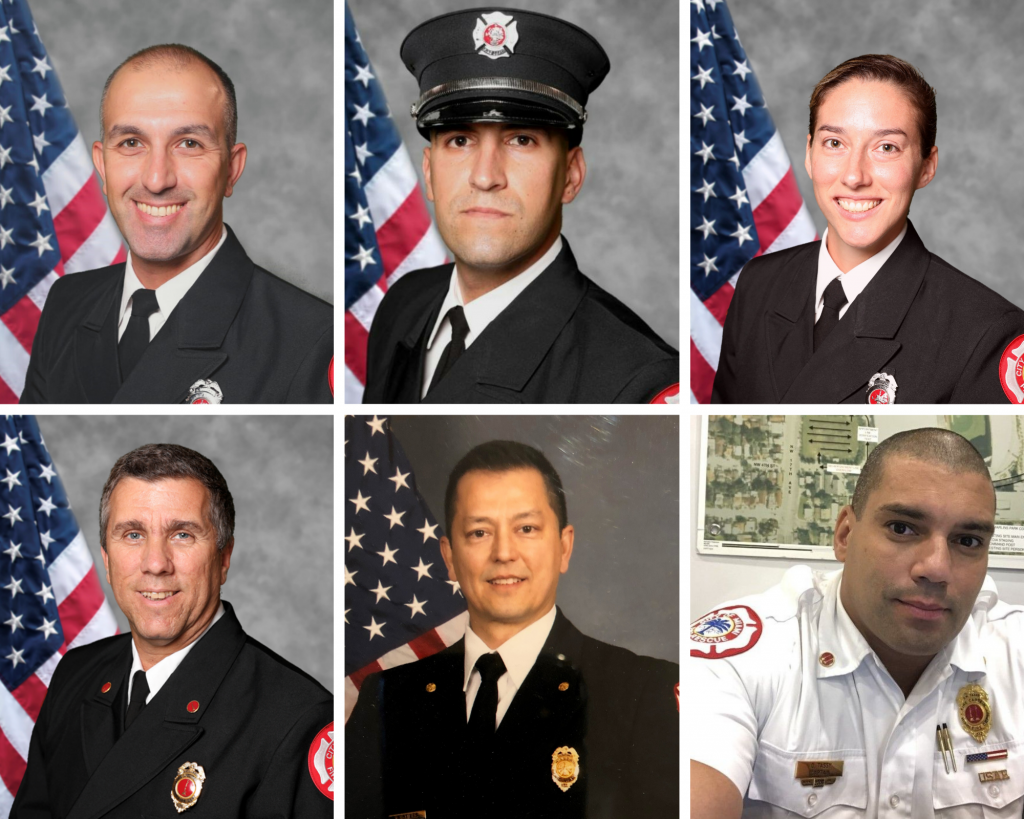 As the pandemic gripped the nation, these first responders balanced schoolwork and their responsibilities within their respective fire-departments. Two months into their studies, they were working around-the-clock to support the COVID-19 response—and they did this all while maintaining high GPAs.
Ahmed Abousaleh, a firefighter, paramedic and hazmat driver with 13 years of experience with the City of Miami Fire-Rescue Department, tested people for COVID-19, administered vaccines to first responders and decontaminated fire stations.
Yendy Gonzalez, a firefighter and paramedic with 8 years of experience with the City of Miami Fire-Rescue Department assigned to Station 9, worked at the Marlins Park COVID-19 testing site, as well as responded to emergency calls throughout the pandemic. In October 2020, he deployed to Louisiana after Hurricane Delta to conduct search and rescue operations.
Melanie Holmes, a firefighter with 6 years of experience with the City
of Miami Fire-Rescue Department, supported COVID-19 relief efforts all while responding to emergency calls.
Juan Carlos Llanes, a lieutenant with 23 years of experience with the City of Miami Fire-Rescue Department, served as the supervisor for the COVID-19 Enforcement Task Force, focusing on business compliance of COVID-19 restrictions.
Glen Stiles, a district fire chief with 33 years of experience with the Hialeah Fire-Rescue Department, focused his efforts on PPE distribution and procurement for his department.
Olivier Tassy, a captain with 15 years of experience with the City of Miami Fire-Rescue Department, is the incident commander for the Marlins Park COVID-19 testing site where he oversaw daily operations by coordinating with local, regional and federal partners.
These students received college credit through a Prior Learning Assessment (PLA), which connects their experiences outside the classroom, such as work, military service and fire/police academy training, to their studies in the program.
For Yendy Gonzalez, this was a relief as he had been out of school and working for the City of Miami Fire-Rescue for almost a decade—he didn't want those experiences to go unnoticed. They had propelled him to become the logistics manager for FEMA Urban Search and Rescue Florida Task Force 2.
"It can be pretty demoralizing for someone who's been out of school to start all over," said Gonzalez. "I wanted to move forward and this program at FIU definitely moved me forward."
His colleague Melanie Holmes, who began work as a first responder after graduating high school, felt the same way and sees a new perk with getting her degree. "You know how there are forms that ask you to check off what degree you have? Well, it feels pretty weird and cool that I can now check off 'bachelor's degree'," she said.
This weekend, the group is set to graduate and will be honored during FIU's commencement ceremony as Real Triumph Graduates, a recognition given to students for their high achievements at the university.
Go here to learn more about the Academy for International Disaster Preparedness and its undergraduate and graduate degree programs.