Maryam Rafieifar, a doctoral student at Robert Stempel College of Public Health and Social Work, has won a $20,000 Dissertation Fellowship from the American Association of University Women's (AAUW). AAUW's fellowship program is the largest and oldest non-institutional source of graduate funding for women in the United States. The association awarded her for her commitment to supporting communities in need through research and service.
"I'm very proud of Maryam. This prestigious award recognizes her as a leading member of the next generation of social work scholars in migration studies," said Dr. Miriam Potocky, Rafieifar's advisor and professor at the School of Social Work at Stempel College. "Maryam is not only a researcher but also an activist. Her dissertation study will give voice to the lived experiences of these marginalized families."
Helping Communities in Need
Rafieifar's work in her home country of Iran with the International Committee of the Red Cross (ICRC) inspired her to pursue her Ph.D. degree in Social Work. At ICRC, she managed a project that connected Afghan refugees and undocumented immigrants to critical health and mental health services.
"For undocumented people, having one paper can make a difference. It can determine if you have access to education, health services, and legal support. It can also have an impact on your economic status," Rafieifar said. "If you can work, you can provide for your family. If you are not allowed to work, you could be pushed into poverty."
Through this work, she met social workers who guided families step by step to ensure they had access to the resources needed to thrive. This experience motivated her to apply for the doctoral program at the School of Social Work at Stempel College.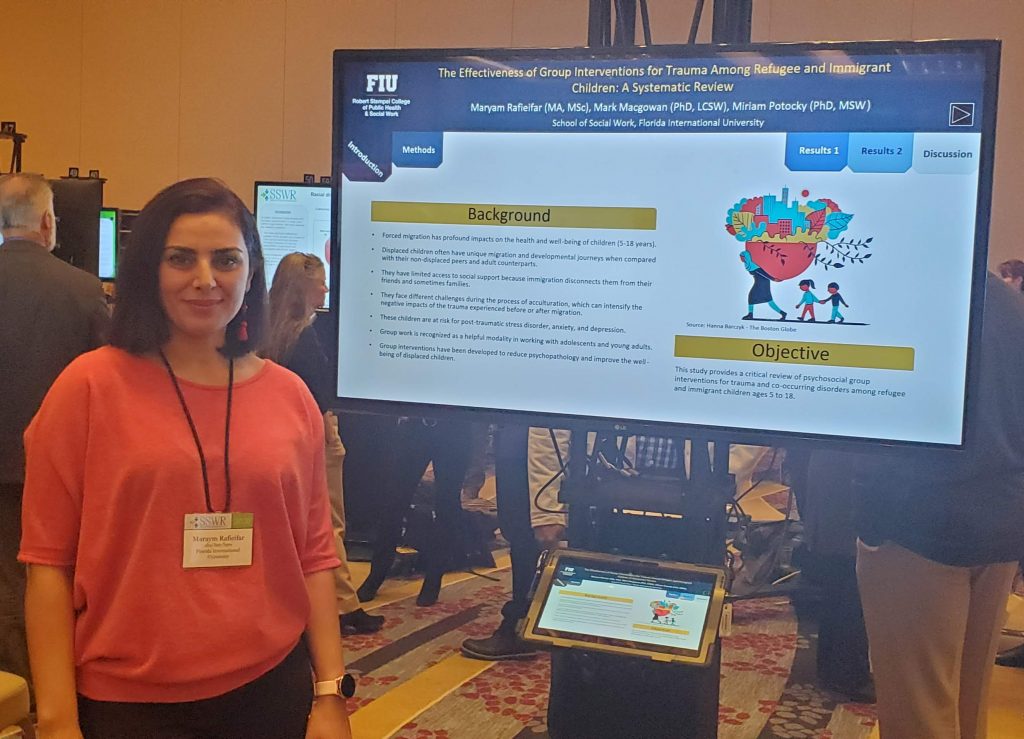 A Bright Future in Supporting Others
Today, Rafieifar is working on her dissertation that explores guardianship as it relates to undocumented families. She's working closely with the Nora Sandigo Children Foundation, which is based in Miami, Florida, and connects undocumented parents and their children to resources. The foundation offers guardianship for legal and medical concerns. For parents who are deported or detained, Sandigo provides full guardianship of the children.
"I want to explore the experience of families who have chosen to delegate the guardianship of their children to a non-relative third party and understand how they make such an important decision," she said.
The AAUW fellowship program will help offset Rafieifar's research expenses and stipends while she completes her dissertation. She's working towards graduating in the spring of 2022 and hopes to run her own nonprofit one day to support undocumented families.
To learn more about Maryam, read FIU News' March 2021 story "Doctoral student researches family separation, guardianship in immigrant communities."
For more information about the School of Social Work at Stempel College, click here.