Gabriel Zahora, a graduate of the Academy for International Disaster Preparedness (AIDP) at Robert Stempel College of Public Health and Social Work, was recently awarded the title of Governor's Hurricane Conference scholar. As a scholar, Zahora has the opportunity to participate in virtual activities that focus on hurricane planning, preparedness, response, and recovery. It will also allow him to learn from and connect with the best of the best in the emergency management industry. Zahora was chosen for his experience working in the field to help communities in times of disaster.
"Gabriel Zahora's accomplishments represent the very challenges he deals with daily and the need to find solutions and make decisions that can impact one individual or a community at large. Having the ability to gain useful knowledge learned in the classroom and put it into practice paves the way in assuring his community is prepared to weather an emergency while he also shares his experiences and knowledge throughout the state. We look forward to Gabriel's future accomplishments and congratulate him on this very important award," said Javier I. Marques, Executive Director of AIDP at Stempel College.

It's a prestigious recognition, but Zahora never thought he would ever be in this position.
Building a career as a first responder
In 2001, Zahora arrived to the United States from Argentina with $400 and a backpack to his name. He was a lifeguard in Argentina, but the summers were short there—three months out of the year. So he made his move to South Florida in hopes that he could continue his career as a lifeguard year-round. To make that happen, he needed to learn English.
"I'd turn on the tv, and I couldn't understand anything," said Zahora. "I went through the ESOL program at South Broward High. I took basic courses to get some words down."
Two years later, Zahora landed a job at Hollywood Beach in Florida working as a lifeguard. He did this work for a few years until he started hearing from his colleagues about their experiences working as paramedics for the local fire-rescue department. These conversations inspired Zahora to make moves.
With a basic command of the English language, Zahora applied to Broward College and studied day and night to complete his paramedic classes. He then applied and completed courses at the Broward Fire Academy and later was hired to work as a firefighter and paramedic.

"It was like an upgrade from being a lifeguard. Now I'm a lifeguard working on the streets. It's all related," said Zahora. "You keep saving people, you keep helping, you keep responding to emergencies, but now it's in a wider environment."
Pursuing an education to give back
With a hunger to do more and learn more, Zahora kept climbing up the ranks. He studied and completed tests that got him promoted to Driver-Engineer, and then captain for the fire department. As the captain, he was in charge of everything in the fire station, including managing human resources, supplies, and more. When it came to big emergencies, Zahora played a significant role in the response. "I was in command of the scene, making sure everyone was safe, and everything got done safely," said Zahora.
His studies didn't stop there. Zahora continued to graduate from Barry University with his bachelor's degree in Emergency Management. And in 2019, he was appointed to the Assistant Emergency Manager position in Fort Lauderdale, where he got involved in activations, training, and met with people from all areas of the industry.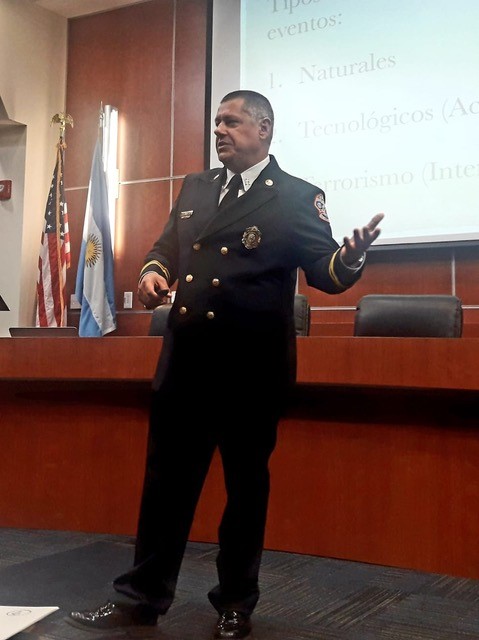 "I took emergency management very seriously. I love the field. That's why I got enrolled at Florida International University to get my master's degree in Disaster Management," said Zahora. He had heard about AIDP's Disaster Management program from a coworker and loved that he would be able to expand his knowledge on how to mitigate and respond to disasters.
He balanced work, life, and school to graduate last summer with his master's degree.
"I never imagined this. From somebody who came to America without knowing the language to being able to get my associate's, bachelor's, and master's degrees," said Zahora. "20 years ago, I was nobody. I've been building my career and connections ever since. It gives me satisfaction to know that I did something well."
Today, Zahora has his eyes set on his next goal of becoming battalion chief for his fire department. He hasn't forgotten where he came from, though. To give back, he hosts trainings and webinars with fire and rescue departments across Latin America to help teach first responders the latest in emergency management.
"I feel many people in South America, or around the world, would like to be in my shoes, and probably one in 1,000 will make it here," he said. "I feel responsible for giving something back to the people that didn't make it."
Go here to learn more about the Academy for International Disaster Preparedness at Stempel College.