Sandra Kiplagat remembers the culture shock she felt upon arrival to the United States from Nairobi, Kenya. She was a teenager then and had moved to New Hampshire with her family in search of better educational opportunities—opportunities that would ultimately lead her to secure a prestigious fellowship this year with the partnership of Public Health Institute (PHI) and Centers for Disease Control and Prevention (CDC).
Kiplagat recalls the first few months in the U.S. as challenging. "I knew English, but I had a different accent," said Kiplagat. "So I was trying to navigate that – being a Black person, an immigrant, in a relatively homogenous white population. It was a bit difficult." Not to mention, Kiplagat moved to New Hampshire during its cold season, where temperatures can drop to below zero. A stark difference from Nairobi's year-round warm climate. "It was a strong introduction to America," she shared.
Building a life in America
Kiplagat channeled her discomfort into action, focusing her efforts on excelling in school. As a young adult, she applied to Clark University in Worcester, Massachusetts, where she got her bachelor's degree in Biology and later her master's degree in Environmental Science and Policy. During her studies, she never stopped applying and participating in internships and found herself drawn to public health. "Back in Kenya, I saw there were a lot of inequities, particularly with people who are living on the margins of society, and I wanted to help."
Her hard work paid off, and she was later hired to work in New Hampshire as a public health research associate. "I worked there for three years and felt like I had reached a point where I needed to challenge myself more and go back to school," said Kiplagat.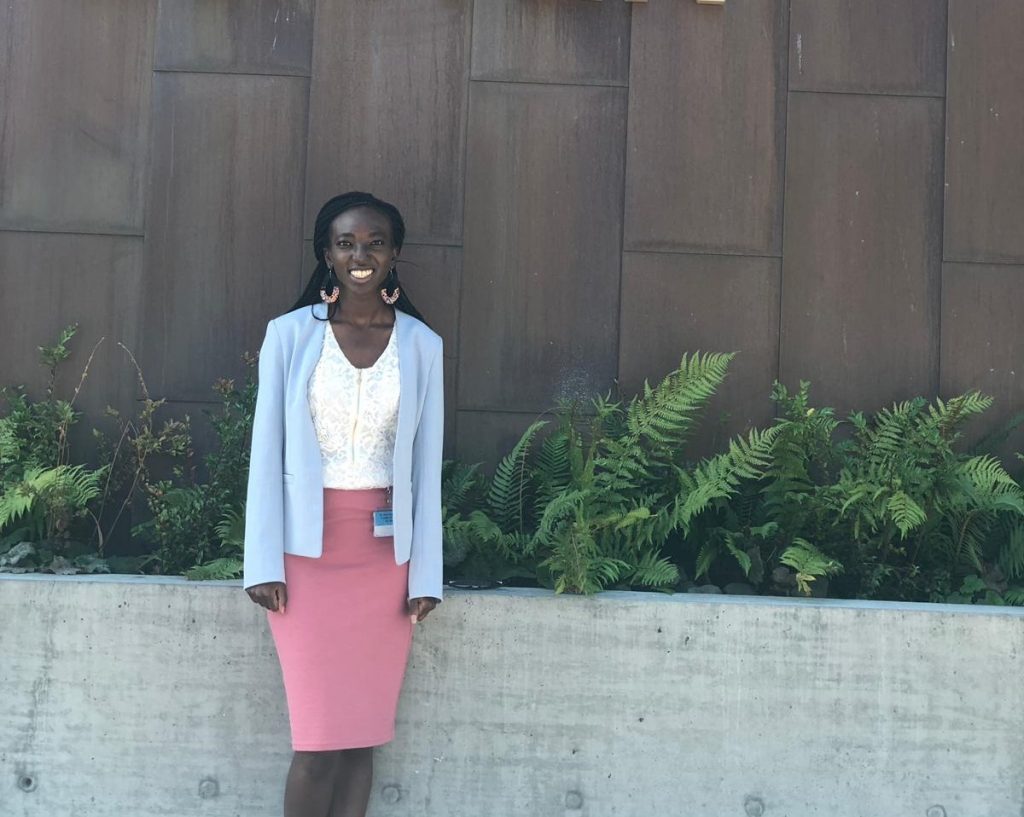 As she searched for schools in the U.S. to pursue a doctoral degree, she came across Florida International University (FIU). Life in Florida meant she'd be further away from her family, but she'd be closer to warm weather. At FIU's Robert Stempel College of Public Health & Social Work, she could also get her Ph.D. in public health, focusing on epidemiology and maternal health – two areas that interested her the most. To help seal the deal, Kiplagat spoke to Stempel College professors.
"I was definitely feeling reassurance that I would be in good hands when I came to FIU," she said.
Life as a doctoral student at Stempel College
In 2018, Kiplagat began her doctoral program and focused her dissertation on maternal health in rural India. Her research looked at diverse methodological approaches to identify which women were at high risk of having a pre-term or low-weight baby.

"Through my research, we identified that women who were in socioeconomically disadvantaged groups had a higher risk of having a preterm or low birth weight baby," Kiplagat said. "In one of my studies, I found that women who are accompanied to their care visits by Accredited Social Health Activists are less likely to have those adverse outcomes." These activists are community health workers instituted by the Ministry of Health and Family Welfare in India.
Kiplagat's interest in maternal health also helped her land a prestigious summer internship in 2019 with the Bill and Melinda Gates Foundation. When she wasn't interning, Kiplagat was deeply involved at FIU, helping to elevate the voices of underrepresented students.
"Sandra showed leadership at the College and University levels in numerous activities to promote diversity and inclusion and to assist underrepresented minority students," said Diana Sheehan, assistant professor at Stempel College's Department of Epidemiology. "Her ability to excel academically while simultaneously contributing to our community this early in her career makes her truly exceptional."
As the summer approaches, Kiplagat is getting ready to graduate from her Ph.D. program. She's also preparing for her upcoming role as a global epidemiology fellow in a program run by PHI and the CDC. In this role, she'll work with the Global Immunization team to look into vaccine safety and improve surveillance for vaccine safety activities.
"It is not surprising that Sandra was able to obtain a very competitive CDC postdoctoral fellowship given her exceptional academic and research career accomplishments," said Sheehan. "I am most proud that she accomplished these with an incredible commitment to improve the health of women and children and sheer hard work."
Click here to learn more about the Department of Epidemiology at Stempel College.