Florida International University, together with Baylor College of Medicine, will host the second of three virtual events as part of the COVID-19 Vaccines: A Global Experts' Summit.
The free event will take place on Friday, June 25, 2021, from 9:45 a.m. to 2:00 p.m. EDT, and will bring together researchers and public health experts to discuss the latest information around the COVID-19 vaccine, the new variants, and the work being done to stop the spread of the virus. FIU President Mark B. Rosenberg will give opening remarks.
Registration is now open. RSVP today here. Public health and medical students, health professionals and managers, government agency workers, and the general public are welcome.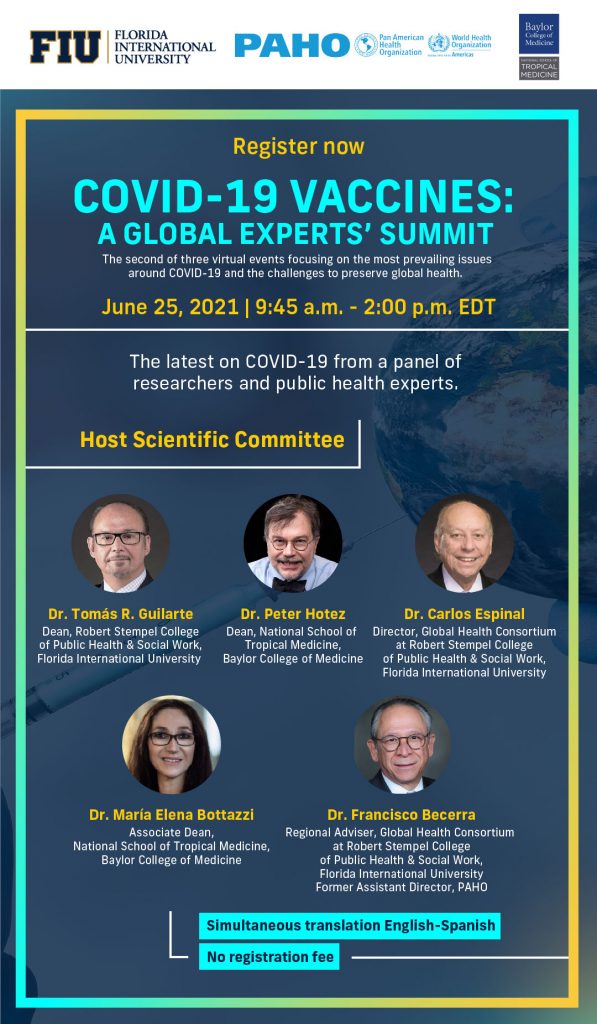 Part I of the Summit took place this past February and tackled some of the world's most pressing pandemic questions. Speakers brought a global perspective – from Israel to Brazil – to help shed light on COVID-19 vaccine inequities worldwide. Over 2,500 attendees from more than 70 countries attended; if you missed it, watch the videos here. This month's event will bring together distinguished panelists to share an update on where we are today. The Summit's third event is slated for later this fall.
This virtual Summit Series is hosted by the Office of the President in collaboration with the Global Health Consortium at Robert Stempel College of Public Health & Social Work, in partnership with the Pan American Health Organization and the National School of Tropical Medicine at Baylor College of Medicine.
"We at Stempel College have dedicated countless hours and immeasurable energy into efforts to safeguard public health during this pandemic," said Tomás R. Guilarte, dean of Stempel College. "This event will bring an outstanding and diverse group of experts together to continue the conversation on topics of critical importance."
Event speakers and agenda will be shared in the coming days. Follow the conversation at #COVIDSummit21.