In college, Vincent Avecilla debated whether to pursue a career in medicine or try something else. During these debates, he always leaned towards working in some aspect of the healthcare and life science field.
"Both of my parents had been nurses for 30 plus years at the hospital where they met. So, I heard all of the stories of them interacting with patients," said Avecilla. "I was taught early on that serving others is the best type of way to live."
Avecilla enrolled in the University of Rhode Island as a psychology/pre-medical track student to become a practicing physician.
But he soon learned that his grades were not high enough for medical school.
"I was shadowing physicians after graduating college and the physician at the time made the recommendation to look into public health if I still wanted to be in the healthcare and life science field and wasn't sure about pursuing medical school," he said. "What I knew about public health was that it focused on improving the health of people and communities rather than concentrating on the individual patient."
After applying to a few public health programs, in January 2011, Avecilla enrolled in the Robert Stempel College of Public Health and Social Work, where he ended up graduating with a master's and Ph.D. degree in Public Health, focusing on environmental health science. Today, Avecilla works for a healthcare and life science consulting firm and currently sits as an interim chief scientific officer for one of his biotechnology clients, focusing on using computer science to develop cost-effective cancer therapies.
Avecilla shared with Stempel College what got him to where he is today.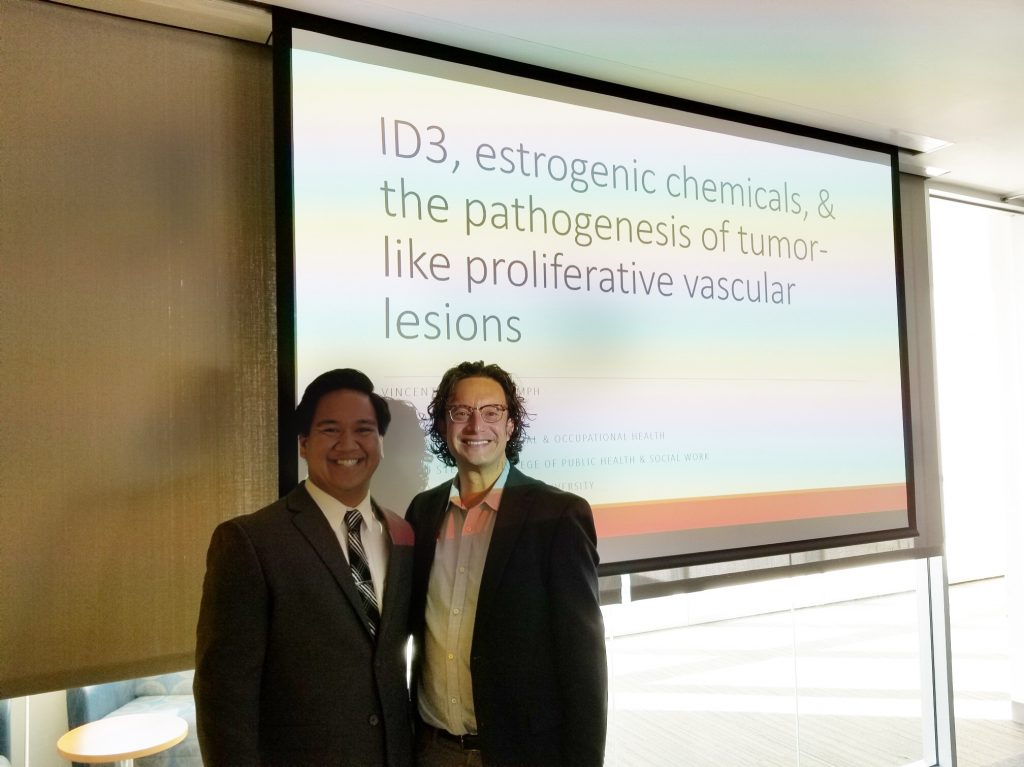 You have a unique experience at Stempel College. Care to share?
I worked primarily outside the department during my time at Stempel College. For the first few years of my Ph.D., I was a tutor for multiple tutoring services while completing the remainder of my classroom work. I was then offered the opportunity to be an associate for a healthcare and life science venture capital firm based in downtown Miami. Through this experience, I learned how to apply aspects of my research such as machine learning, data analytics, biostatistics, environmental health science, and epidemiology to the industry.
What kind of work were you doing at the firm?
I worked with early-stage companies helping to develop them in any capacity that was needed. This included working on research that was part of product development or strategy roadmaps for expansion and additional venture funding. These companies were focused in therapeutic product areas such as medical devices, healthcare artificial intelligence, biotechnology, and digital health — many of which dealt with some aspect of my dissertation work. This allowed me to really hone in on the skills I was learning at Stempel College while also getting industry experience in venture capital.
Many people may not know that you could land a job like that with a public health background. What advice would you give them?
One of the reasons why I am so interested in science, healthcare, and public health is just my curiosity. It's very important to ask a lot of questions. I asked questions when I was a master's student and probably asked even more questions when I was a Ph.D. student and associate. At the time, I was dealing with areas outside of my scope both in my dissertation and venture capital work like epidemiology, machine learning, deal sourcing, product development, and term sheets—areas that I was not accustomed to. Asking questions gave me the ability to understand, learn more, and widen my knowledge. For anyone interested in going down this route, it's good to ask a lot of questions.
What's your day-to-day look like?
My typical day-to-day consists of me traveling and being on-site at various places. I'll either travel a few days or the night before to work on ongoing projects with my colleagues in labs and offices currently located in California, Florida, and Connecticut to make sure everything is going accordingly. I could also be on-site working with our clinical collaborators at various hospitals, laboratories, and medical centers. I also meet with members of our board of advisors and current-potential investors every so often to discuss projects and progress. I spend the latter part of the day going over paperwork like contracts, drug development material, and anything else that needs my review.
What's next for you?
I do have medical school at the back of my mind since that was my intention coming out of college. You never know, depending on how I feel after this year, maybe I'll look to go back to school, and everything will come full circle.
Click here to learn more about a degree in Environmental Health Science at Stempel College.